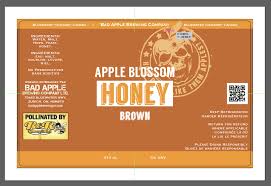 Buy 24 of any beer variety from our collection and save $9. You can mix and match varieties that total 24 cans and you will still save. 
10¢ per can deposit included. Return for a refund where applicable.
Our honey brown is made with local honey from R&R honey (Watford, ON). We rent bees for our small orchard and use the honey for this beer, hence the name: Apple Blossom Honey Brown. 
The colour is the same as the name. It has a rich malty character with a slight honey sweetness. ABV 5%.  IBU 18